Creamy cheesecake with a strawberry jam swirl layered onto a soft oatmeal cookie crust. Need I say more?
Cheesecake Bars
Warning! This ain't diet food boys and girls! Sometimes you just need something sweet, creamy and decadent. These cheesecake bars are
the fulfillment to that craving. A soft oatmeal cookie crust topped with a creamy layer of cheesecake swirled with strawberry jam, yummy on the first day, even better the second day. Don't you love when you discover a recipe that is even better on the second day? I am always excited to be able to add a new recipe to my "Make Ahead Dish" file.
Oh yeah and to make these even sweeter, they can be made in one bowl. Yep, one bowl, you read that correctly. The oatmeal layer comes together so cleanly, the same bowl can be used to mix the cheesecake layer. Keeps getting better, doesn't it?
Strawberry Swirl Cheesecake Bars with Oatmeal Cookie Crust
I used strawberry jam for the swirl because it is one of my favorites. Your favorite jam can easily be substituted here. Or nutella, peanut butter, or almond butter. Maybe your preference would be no swirl, that is ok too. Or no swirl, but add in chocolate chips, white chocolate chips or nuts. Have fun and add in whatever it is that will make this your perfect one bowl, make ahead dessert! Next go, I'm trying a nutella swirl.
What will be your swirl or add in choice? I am waiting to hear your ideas for swirl or add in ideas!
and
A favorite at
Teach Me Tuesday Linky Party
at 3GLOL!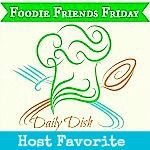 Strawberry Swirl Cheesecake Bars
For the Oatmeal Crust:
2 Sticks Butter - Softened
2 Cups Quick Oats
1 and 1/2 Cups All Purpose Flour
1 Cup Pure Cane Sugar or Light Brown Sugar
For the Cheesecake Layer:
16 Ounces Cream Cheese – Softened
1 Can Sweetened Condensed Milk
2 Eggs
2 Teaspoons Vanilla
For the Swirl:
1 Cup Strawberry Jam – Stirred to loosen
Preheat oven to 350 degrees.
In a stand mixer with paddle attachment or with hand mixer, cream butter and sugar until fluffy. Add flour and oats, mix to combine. Pat mixture evenly into bottom of a 9X13 pan. I used glass. Bake for ten minutes.
While oatmeal layer is baking make cheesecake layer. Mix softened cream cheese, vanilla extract and condensed milk until combined. Add eggs and mix until incorporated. Top oatmeal layer with cheesecake mixture, spread evenly. Add jam in dollops on to top of cheesecake layer. Swirl into cheesecake layer with knife or handle end of a wooden spoon. Bake for 30 to 35 minutes at 350 degrees. Allow to completely cool before cutting. Best if cooled uncovered in refrigerator for at least two hours before cutting. To store leftovers, cover and refrigerate.
©Christy's Cooking Creations. Please do not use my images without prior consent. Please link back to this post even if recreating and posting this recipe in your own words.