A baked three cheese and spinach dip dotted with diced red peppers . Oh, did I mention it has bacon too?
I was featured at these awesome parties: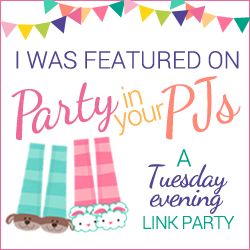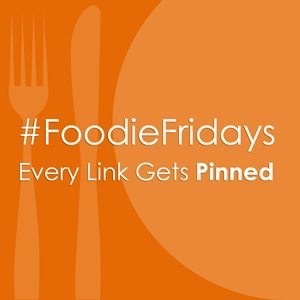 Happy New Year! I hope your year is off to an awesome start! Mine has been busy. My husband gifted me with a
puppy, an itty bitty three week old puppy for Christmas. I think this may have happened because I had begged on several occasions. Bottle feeding, crying in the wee hours of the night, making sure she makes it to the puppy pad in time. Whew! You know that old adage, "Be careful what you wish for, you just might get it." Just kidding, she has kept me busy but is so much fun. I'm pretty sure I would beg all over again...maybe....anywho, on to the first recipe of the new year at CCC.
Seems like the holidays flew by this year and in the blink of an eye here I am writing my first post for the new year. With the holidays over, I am in full Super Bowl menu planning mode. My husband and I are huge football fans, the Super Bowl has been declared a national holiday at our house. Just as important as the big game is the food that will be served.
This three cheese spinach dip will definitely be joining us on the big day. Cream, cheddar and mozzarella cheeses baked together with spinach, bacon and diced red peppers to melty perfection. Perfect served with crackers, pita bread or my personal fave tortilla chips.
You can substitute real bacon bits for the cooked, crumbled bacon if running short on time. I cooked extra bacon at breakfast to have for making this dip. I did have to hide it from the husband and son though, if they had known there would not have been any leftover bacon. The only other thing that requires any amount of time, outside of the mixing and baking time, is the dicing of the red pepper.
Do you attend or host a Super Bowl party? What are some of your favorite foods to serve?
16 Ounces Cream Cheese
10 Ounce Box Frozen Spinach – Thawed and excess water squeezed out
6 Strips Cooked and Crumbled Bacon
2 Cups Grated Cheddar Cheese (I used mild, but sharp will work just fine)
1 Cup Grated Mozzarella
3/4 Cup Diced Red Pepper – Reserve 1/4 cup for garnish
2 Tablespoons Worcestershire Sauce
1 Teaspoon Garlic Powder or 2 Cloves Fresh Garlic Pressed or Finely Chopped
Preheat oven to 350 degrees.
In stand mixer with paddle attachment beat cream cheese until smooth. Add Worcestershire sauce, garlic powder, cheddar cheese, mozzarella cheese and crumbled bacon; mix until combined. Add spinach and ½ cup of the diced red pepper; mix just until incorporated. Place in one and half quart casserole dish and bake for 30 to 35 minutes. Sprinkle top with remaining quarter cup of diced red pepper. Allow to cool 10 to 15 minutes before serving.
©Christy's Cooking Creations. Please do not use my images without prior consent. Please link back to this post even if recreating and posting this recipe in your own words.