Little bites of cherry cheesecake filled with diced maraschino cherries and crushed graham crackers. These no bake treats are pure bliss!
Cheesecake bites filled with diced maraschino cherries and hunks of graham cracker crumbs!
These cherry cheesecake bites come to you courtesy of the one cup of graham cracker flour left over from the
s'mores scones
. A few more ingredients, chilling and rolling time and you too can have little
bites of cheesecake heaven.
These baby cheesecake bites are filled with diced maraschino cherries and hunks of graham crackers crumbs. Need I say more?
Now chilling is required here, or you will end up with a goopy puddle of cream cheese/sprinkles/melted chocolate when you try to coat these. It will not be pretty and you will be disappointed. Please do not skip the chilling. If you try to scoop, roll or coat these without the cheesecake filling being cold it will not be productive. It will probably incite some less than socially acceptable language. I'm just guessing here and in no way incinuating that this scenario happened in my kitchen.
After mixing and chilling, I used a tablespoon cookie scoop to get even size bites. I then just dropped them into the coating of choice and gently rolled them around. This saves a step of actually having to roll with your hands and then coat. I coated these with four different toppings: chocolate sprinkles, rainbow sprinkles, crushed chocolate wafer cookies and, my personal favorite, a bar of melted Godiva vanilla bean white chocolate. If using the melted chocolate, just scoop and then dip into the chocolate with a toothpick, making sure chocolate has cooled slightly.
I have to tell you that these were wildly popular amongst friends and family. I have had requests to make more of these. My daughter even called me at work to inform me that a certain store had the Godive chocolate bars on sale. I believe that may have been a hint. I can't wait to hear from you to see what different toppings you used for these. Mix it up and have fun!
Perfect for a party!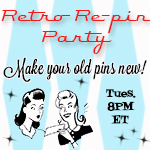 Very Cherry Cheesecake Bites
8 Ounces Cream Cheese – Softened to room temperature
1 Cup Finely Crushed Graham Cracker Crumbs
½ Cup Powdered Sugar
2 Tablespoons Maraschino Cherry Juice
2 Tablespoons Diced Maraschino Cherries – About 8 to 10 cherries
½ Teaspoon Vanilla Extract
Assortment of toppings: sprinkles, melted chocolate*, crushed cookies
In a large bowl mix cream cheese and powdered sugar together. Add maraschino cherry juice, diced cherries and vanilla extract, mix well. Add finely ground grahams mixing just until incorporated, there will be some pockets of grahams, this is ok, you want little hunks of grahams in these. Chill for at least two hours. Scoop with tablespoon scoop. Roll or dip in toppings of your choice. Keep refrigerated. May be removed from refrigerator 30 minutes prior to eating or serving if you would like them closer to room temperature.
*I melted my chocolate in a glass bowl in the microwave in 20 second increments, stirring in between. My chocolate was completely melted after three trips to the microwave.
©Christy's Cooking Creations. Please do not use my images without prior consent. Please link back to this post even if recreating and posting this recipe in your own words.
Hunks of graham and maraschino cherries!